FAQ
1. What can CPU-reversing do?
---
In the case, the heat source can be released from the back of the case, greatly increasing the space for heat dissipation. The subsequent advantage is that the chassis can be reduced, can be sealed and dustproof, can be modularized stacking components, heat dissipation system, CPU and GPU heat dissipation will not affect each other, vertical installation is not afraid of water cooling head leakage, the assembly is organized, and the wiring is simple. And if the use of fully passive cooling, it can greatly reduce the noise problem, and will not crash due to fan failure.
---
2. Who are we?​ Why we focus on unique motherboard?
---
ENCTEC Electronic Technology Co., Ltd. was established in 2018. It is a subsidiary of EDAC Electronic Technology Co., Ltd. It is a new force that focuses on user experience and the research and development of emerging electronic products. EDAC Electronic Technology Co., Ltd., established in 2006, is about to enter its 15th year of operation. It is one of the mobile phone leaders and a supplier of customized automation solutions, dedicated to the efficient full inspection of components for major American mobile phone companies. In 2019~2020, the company's major customer reorganization and the impact of the epidemic will transform the company into a diversified operation, involving semiconductor cutting, industrial materials, telemedicine, medical biotechnology material testing, acoustic device testing, consumer goods, etc.
---
3. Does our motherboard needs a special case?
---
Most commercially available cases can be used, and a small number of cases may need to be modified by themselves. If you use a large DIY case or bare side frame. Because the available space becomes larger, the heat dissipation advantage of the motherboard can be maximized. Please refer to our assembly instructions: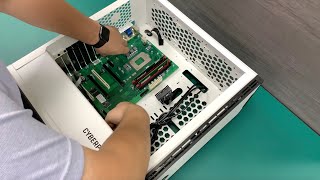 ---
4. Why our motherboard is Q270 chipset and only supports Intel 6/7th generation?
---
The ENCTEC REV. Q270 motherboard launched by ENCTEC Company, although using the older Q270 chipset, has a high CP value and stable quality. After repeated tests, it can support 95% of the market's video games for smooth play, word processing and general home use.
---
5. Will the company have new products in the future?
---
At present, the company is developing a motherboard that supports Intel 10th which will use the Z490 chipset. The high heat generation from the over-clock and the advantages of the CPU reverse installation can stimulate more imagination. At the same time, advanced products supporting 8/9th are also expected to be launched in early 2021.
---
6. I want to buy your product, how do I buy it?
---
Q270 products are currently sold out. At the same time, the REV. Z490 series motherboards are expected to be launched next year. Please keep focusing our official website and FB. Thank you.
---
---
If you have any other questions, please click here to contact us, thank you very much